Software / Graphics & Design →
DS BIOVIA Materials Studio 2020 v20.1.0.2728 (Win x64)
Published by: mata00 on 4-12-2021, 06:10 |
0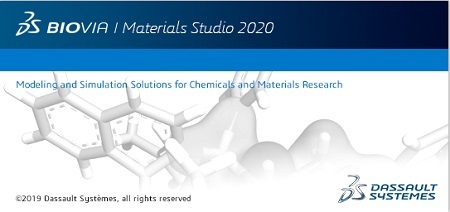 DS BIOVIA Materials Studio 2020 v20.1.0.2728 (Win x64)
x64 | File Size: 1.86 GB
Description:
BIOVIA Materials Studio is a complete modeling and simulation environment designed to allow researchers in materials science and chemistry to predict and understand the relationships of a material's atomic and molecular structure with its properties and behavior. Using Materials Studio, researchers in many industries are engineering better performing materials of all types, including catalysts, polymers, composites, metals, alloys, pharmaceuticals, batteries and more.Exploring Materials Properties
-Materials Studio offers an "in silico first" approach, allowing researchers to optimize their materials' performance in a relatively low cost environment prior to physical testing.
-Accelerate the innovation process: Drive deeper understanding of the interactions that define material properties
-Reduce R&D Costs: Minimize the number of physical experiments via "Virtually Screening" candidates
-Improve R&D Efficiency: Automate and share best practices within Pipeline Pilot to reduce non-value added tasks
-Foster Data-Driven Decisions: Complement laboratory experimentation with powerful materials informatics
A Multiscale & Multiphysics Solution
Explore our functional areas below to learn how researchers are developing better catalysts, pharmaceuticals, polymers, composites, alloys, batteries and more.
-Battery Materials
-Catalyst Design
-Chemicals & Solvents
-Consumer Packaged Goods
-Materials Science Collection
-Metal Alloy Design
-Pharmaceutical Development
-Photovoltaics & Organic Electronics
-Polymer Composites
-Semiconductors & Sensors
-Visualization & Statistics
System Requirements:
OS:Microsoft Windows 10 Professional/Enterprise
CPU:Intel Core i5 or equivalent
RAM:4GB
SPACE:1GB
Display:1366×768 display resolution 24-bit
Link Download

Download Via UploadGig
Download Via Rapidgator
Extract files with WinRar 5 or Latest !
[related-news]
Related News
[/related-news]
Comments (0)