Published by: LeeAndro on 4-05-2021, 17:34 |
0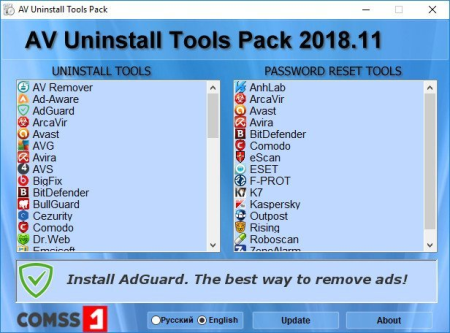 File Size : 341 Mb
AV Uninstall Tools Pack - a free package of tools designed to remove different antivirus programs.
It includes tools for removing more than 40 antivirus and antispyware programs and firewalls. They are necessary in cases when it can not completely remove the antivirus program in the standard way, or in the process of removing errors.
These utilities completely remove all files, drivers, services and registry entries left by antivirus programs. These tools will be useful for those who often deals with reinstalling and configuring the software. Note that some tools are not intended for use as a primary means of uninstall. Before using them, try to uninstall the standard way. Learn more about using each tool see the Readme. Also, the AV Uninstall Tools Pack includes the utility to reset the passwords of antivirus programs.
Adguard Uninstall Utility (AdGuard Software Limited)
AhnLab Password Reset Tool (COMSS.RU)
ArcaVir Removal Tools (ArcaBit)
ArcaVir Password Reset Tool (COMSS.RU)
avast! Antivirus Removal Tools (AVAST Software a.s.)
avast! Password Reset Tool (COMSS.RU)
AVG Remover tools (AVG Technologies CZ, s.r.o.)
Avira Registry Cleaner (Avira GmbH.)
Avira Password Reset Tool (COMSS.RU)
AVS Uninstall Cleaner (Online Media Technologies Ltd.)
BigFix Removal Utility (BigFix)
BitDefender Uninstall Tools (BitDefender S.R.L.)
BitDefender Password Reset Tool (BitDefender S.R.L.)
BullGuard Uninstallers (BullGuard Ltd.)
Cezurity Antivirus Remover (Cezurity)
Comodo Password Reset Tool (COMSS.RU)
Comodo Uninstaller 2.0.0.3 (COMODO)
Dr.Web Remover tools (Doctor Web, Ltd.)
Emsisoft Clean (Emsi Software GmbH.)
eScan Password Reset Tool (MicroWorld Technologies Inc.)
eScan Removal Tool (MicroWorld Technologies Inc.)
ESET Password Reset Tool (COMSS.RU)
ESET Uninstaller (ESET)
ESET AV Remover (ESET)
F-PROT Password Reset Tool (COMSS.RU)
F-PROT Version Remover tools (FRISK Software International)
F-Secure Uninstallation Tool (F-Secure Corporation)
G Data AntiVirus Cleaner (G Data Software AG)
K7 Security Product Removal Tool (K7 Computing Pvt. Ltd.)
K7 Password Reset Tool (COMSS.RU)
Kaspersky Password Reset Tools (Kaspersky Lab ZAO)
Kaspersky Removal Tool (Kaspersky Lab ZAO)
Malwarebytes Cleanup Utility (Malwarebytes Corporation)
Max Secure Uninstaller (MaxSecure Software)
McAfee Software Removal tools (McAfee, Inc.)
Microsoft Security Essentials removal tools (Microsoft Corporation)
NANO Antivirus Uninstaller (NANO Security)
Norman Removal Tool (Norman ASA)
Norton Removal Tool (Symantec Corporation)
Norton Remove and Reinstall (Symantec Corporation)
nProtect Security Platform 2007 Remover (INCAInternet Co.,Ltd)
Outpost password reset instructions
Panda Uninstaller tools (Panda Security, S.L.)
PC Tools ThreatFire Removal (PC Tools)
Prevx Removal Tools (Prevx Ltd)
QuickHeal Removal Tools (Quick Heal Technologies (P) Ltd.)
Radialpoint Security Uninstall Utility (Radialpoint SafeCare Inc.)
Rising Password Reset Tool (COMSS.RU)
Roboscan Password Reset Tool (COMSS.RU)
Sophos Removal Tool (Library and Information Services)
SPAMfighter Remove (SPAMfighter ApS)
Sunbelt Cleaner tools (Sunbelt Software)
SUPERAntiSpyware Application UnInstaller (SUPERAntiSpyware.com)
Total Defense Internet Security Suite Removal Tool (Total Defense Inc.)
Trend Micro Uninstall Tools (Trend Micro Inc.)
TrustPort Removal Utility (TrustPort, a.s.)
Webroot Removal tools (Webroot Inc.)
WinPatrol Removal (BillP Studios)
Zillya Uninstaller (COMSS.RU)
ZoneAlarm Password Reset Tool (COMSS.RU)
ZoneAlarm Removal Tool (Check Point Software Technologies LTD)
- Updated Avast Antivirus Removal Tool to version 21.3.6164.0
- Updated Avast Secure Browser Removal Tool to version 6.11.4.3680
- Updated AVG Clear to version 21.3.6164.0
- Updated Bitdefender Endpoint Security Uninstall Tool to version 7.1.1.20
- Updated Emsisoft Clean to version 2021.4.0.10785
- Updated ESET Uninstaller to version 10.19.0.0
- Updated F-Secure Uninstallation Tool to version 18.1.68
- Updated G Data AntiVirus Cleaner
- Updated K7 Security Product Removal Tool to version 1.0.0.52
- Updated Kaspersky Removal Tool to version 1.0.1641.0
- Updated Malwarebytes Support Tool to version 1.8.4.896
- Updated McAfee Consumer Product Removal to version 10.3.115.0
- Updated NANO Antivirus Uninstaller to version 1.0.134.25112
- Updated Norton Remove and Reinstall to version 4.5.0.157
- Updated Symantec CleanWipe to version 14.3.3580.1100
DOWNLOADuploadgigrapidgatornitroflare
[related-news]
Related News
[/related-news]
Comments (0)