Software →
Starus Office Recovery 4.5 Multilingual
Published by: BaDshaH on 29-03-2023, 21:59 |
0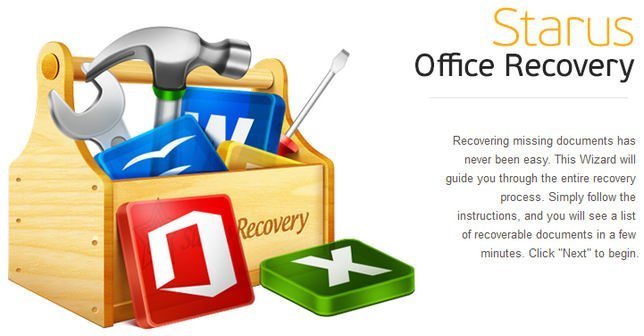 File size: 18 MB
Recover many types of documents that go missing! Starus Office Recovery can quickly undelete a wide range of document formats, recover them from formatted partitions and repartitioned hard drives, and extract documents from corrupted volumes and unreadable pen drives and memory cards. Starus Office Recovery can recover Word documents, Excel spreadsheets, PowerPoint presentations, Adobe PDF files and many other formats produced by Microsoft Office and OpenOffice applications.
Best in Class Recovery Engine
Starus Office Recovery implements low-level, content-aware disk scan to enable surefooted recovery from badly damaged, corrupted and inaccessible devices. Content-aware analysis obtains information from the disk surface and not just the file system, allowing the product to successfully recover documents other tools cannot even notice. Its highly sophisticated document analysis engine combined with convenient user interface deliver best-in-class performance for safe, smooth recovery even in the hands of a complete novice.
Get Exactly What You See
With Starus Office Recovery, you get exactly what you see. The tool validates documents before adding them to the list of recoverable files, ensuring that any file you see is actually 100% recoverable. It won't show you thousands of corrupted copies – but the handful of those that make it to the list are fully functional copies that passed the tool's integrity check!
The built-in preview allows you viewing the documents before recovering. The viewer is completely self-contained and requires no office applications to be installed.
Undelete Documents in the Widest Range of Formats
Starus Office Recovery supports documents produced by Microsoft Office and OpenOffice applications as well as Adobe PDF files. It can securely undelete Microsoft Word files in RTF, DOC/DOCX formats, Excel spreadsheets XLS/XLSX, RTF, OpenOffice ODT, ODS, and ODP documents, Adobe PDF, and many other formats.
Recover Accidentally Deleted Documents
Whether you deleted a document directly with Shift+Del, removed it from the Recycle Bin, or never saved it at all, Starus Office Recovery will help you get those files back in no time. In its Quick Recovery mode, the tool will only take seconds to discover and undelete the documents. The easy recovery wizard will guide you through the entire process, enabling a safe and speedy recovery experience.
Restore Maliciously Destroyed Documents
Have some documents missing, corrupted or locked up after malware activities? Use Starus Office Recovery to quickly regain access to those document files! The tool can scan the entire disk surface looking for any document still remaining – even if any trace if it is deliberately eliminated from the file system.
Recover after Virus Attacks
Virus attacks can be devastating, corrupting your hard drive or locking up entire volumes. Starus Office Recovery can access corrupted partitions and locked-up disks in low level, bypassing affected Windows mechanisms to ensure smooth, safe recovery after a virus attack.
Recover Documents You Never Saved
Did you know that Microsoft Office applications save temporary copies of documents you are working on every few minutes? This opens an opportunity to recover the latest versions of documents – even if your computer crashed while you were typing. Starus Office Recovery supports temporary files created by Microsoft Office before you save them, allowing you to recover work you never saved at all!
Recover Documents Stored on Corrupted Partitions
Cannot read the disk or getting a Windows error when accessing a flash drive? Starus Office Recovery is here to help! Accessing the device in low level, the tool can recover documents no other program will even see. Corrupted or missing file systems, raw partitions and unpartitioned space are no problem with Starus Office Recovery!
Recover Documents from Formatted Disks
Clicked "OK" in a prompt to format a USB pen drive? Formatted a disk, pen drive or memory card? Starus Office Recovery will help you recover any office documents you had on that disk! Reading the complete content of the device in low level, Starus Office Recovery employs a highly sophisticated content-aware analysis allowing the tool to identify documents even if no file system is left on the disk. Content-aware analysis works great on hard drives, USB pen drives, memory cards, and many other types of storage devices.
Recover Documents from All Types of Storage Media
Regardless of whether your documents were stored on a local hard drive, external or removable device, Starus Office Recovery will help. Working with the widest range of storage devices, Starus Office Recovery explicitly supports all versions of FAT, FAT16, FAT32, NTFS and NTFS5 used in the latest versions of Windows.
Recover Documents from Inaccessible Flash Media
Can't read a memory card? Getting the "Windows cannot access the specified drive, path or file" error message for a newly inserted USB drive? More often than not, the reason is file system corruption. Starus Office Recovery can scan the entire content of the device to ensure that all documents stored there are successfully recovered – even if the file system is badly damaged or no longer exists.
Supports NTFS Compressed Files
Do you have NTFS compression enabled? Starus Office Recovery can recover compressed files, too! The tool supports the built-in NTFS compression algorithm, enabling surefooted recovery of documents compressed with on-the-fly mechanism built into all recent versions of Windows.
Why use NTFS compression at all? Older versions of Office documents used to compress well, saving considerable space on the hard drive. With newer DOCX, XLSX and similar formats, on-the-fly compression no longer makes sense as these files are already compressed (they are, in fact, ZIP files with XML content packed inside), so if you are using a newer version of Microsoft Office, disabling NTFS compression (if it is still on) is a good idea.
Recover Documents from Faulty Hard Drives with Virtual Disk Images
If you want the safest recovery experience possible, you can use Starus Office Recovery to take a bit-precise image of your disk in one long sweep, and continue the recovery using that disk image. If the hard drive is unstable, physically damaged or badly worn (contains multiple remapped sectors or "bad blocks"), reducing the number of head movements to absolute minimum is a must. Starus Office Recovery is designed to capture virtual images of physical drives with as little read operations as possible. And of course, the tool guarantees the number of write operations to be absolute zero!
What's New:
official site does not provide any info about changes in this version.
HOMEPAGE
https://www.starusrecovery.com/

Download From Rapidgator

https://rapidgator.net/file/a04228cbe16ed3c957cb22e4565cd7a0

Download From Ddownload

https://ddownload.com/sb7umdw0edas

[related-news]
Related News
[/related-news]
Comments (0)