Software / Programming →
Garmin City Navigator Europe NT Unicode 2021.30 (Map unlocked)
Published by: mata00 on 11-05-2022, 15:17 |
0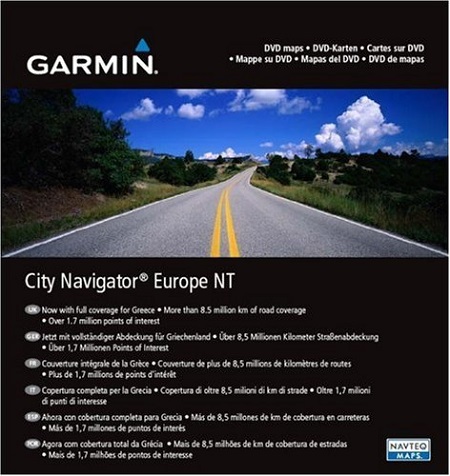 Garmin City Navigator Europe NT Unicode 2021.30 (Map unlocked)
Size File: 22.2 GB
System requirements : Garmin devices with Unicode support (since 2013). Lineup 2xxx, 3xxx and others.
System requirements : Garmin navigators, as well as a PC with "BaseCamp" or "MapSource" software installed
Coverage area
Navigate the streets of Europe with confidence. This product contains detailed road maps and points of interest for your compatible device, so you can navigate with accurate directions, turn-by-turn directions to any address or intersection. Route to restaurants, gas stations, lodging, attractions and more. Includes full coverage of Romania, Guadeloupe, Martinique, Saint Barthelemy and French Guiana. Detailed coverage increased for Bosnia and Herzegovina. Includes over 10.8 million km (6.7 million miles) of roads, including highways, national and regional highways and local roads, in Western Europe and many countries in Eastern Europe. Displays over 6.7 million points of interest nationwide, including restaurants, accommodations, border crossings, attractions, gas stations, campgrounds, shops and more. Gives turn-by-turn hints on a compatible device. Pronunciation for compatible devices that speak street names (for example, "Turn right onto Main Street") Includes navigation features such as avoiding unwanted places, route selection, and more Contains traffic data for compatible devices that use receiver traffic.
United Kingdom and Ireland
United Kingdom: Full coverage
Scotland: Full coverage
Wales: Full coverage
Isle of Man: Full coverage
Northern Ireland: Full coverage
Ireland: Full coverage
Channel Islands: Full coverage
Denmark, Finland, Iceland, Norway and Sweden
Denmark: Full coverage
Finland: Full coverage
Iceland: full coverage
Norway: full coverage
Sweden: full coverage
France and Benelux
Andorra: full coverage
Belgium: full coverage
France: full coverage
French Guiana: coverage for most urban areas
Guadeloupe: full coverage
Martinique: Full coverage
Netherlands: Full coverage
Luxembourg: Full coverage
Reunion: Coverage for most urban areas
St. Barthelemy: Full coverage
Italy, Austria, Switzerland and Liechtenstein
Italy: Full coverage
Austria: Full coverage
Switzerland: Full coverage
Liechtenstein: Full coverage
Malta
Malta : Full coverage
Spain and Portugal
Spain: Full coverage
Portugal: Full coverage
Gibraltar: Full coverage
Azores: Full coverage
Canary Islands: Full coverage
Baleric Islands: Full coverage
Madeira: Full coverage
Germany
Germany: Full coverage
Czech Republic
Czech Republic: Full coverage
Greece
Greece: Full coverage
Eastern Europe
Estonia: Full coverage
Latvia: Full coverage
Lithuania: Full coverage
Poland: Full coverage
Slovakia: Full coverage
Hungary: Full coverage
Slovenia: Full coverage
Croatia: Full coverage
Bulgaria : Full coverage
Romania: Full coverage
Turkey: Full coverage
Cyprus: Full coverage
Moldova: Coverage for most urban areas
Bosnia and Herzegovina: Full coverage
Serbia and Kosovo: Full coverage
Montenegro: Full coverage
Albania: Major roads only
Republic of Macedonia (FYROM): Full coverage
Belarus: Coverage for most urban areas
Ukraine: Full coverage
In the distribution:
In this version, the official map is divided into two files: Northern and Southern Europe.
North includes : Austria, Belarus, Belgium, Czech Republic, Denmark, Estonia, Finland, Germany, Iceland, Great Britain, Latvia, Lithuania, Luxembourg, Netherlands, Norway, Poland, Slovakia, Sweden and Ukraine.
South includes : Albania, Andorra, Bosnia and Herzegovina, Bulgaria, Croatia, Cyprus, France, Greece, Hungary, Italy, Kosovo, Macedonia, Malta, Moldova, Montenegro, Portugal, Romania, Serbia, Slovenia, Spain, Switzerland and Turkey.
The accompanying files are now also their own for each of the halves of the cards and are located in the corresponding folders.
In the "Unlocked IMG" folder the map file is unlocked and ready for copying to Garmin navigators.
In the folder "PC install Locked" the map for use in the programs "BaseCamp" and "MapSource".
In these programs, you can choose the area of ​​interest in Europe yourself and save it as an .img file to a navigator connected to your computer or just a USB flash drive with the Garmin folder in the root.
The card is locked for a PC, to unlock you need to use the program "UnLock MapSource.exe" or similar after the map is copied to the computer depending on the OS (for WinXP the path is C: \ Documents and Settings \ All Users \ Application Data \ GARMIN \ Maps for Win7 / 8 path C: \ ProgramData \ Garmin \ Maps)
Additional Information:
On new Garmin navigators such as nuvi 55/56/65/66 / 25x9 / 26x9, zumo 590, GPSMAP 64, Edge 1000 etc. a different method of protection was applied, the operability of the unlocked cards from the distribution depends on the firmware installed in the device, but in most cases it will need to be patched so that the navigator can use even the unlocked cards from this distribution.
The program and instructions (in English) for patching firmware can be downloaded here .
Materials on the correct installation of files from the distribution into the navigator can be found at links [1] , [2] and [3] .
The list of devices supporting Unicode cards can be found here (Compatible Devices tab).
To determine which files from the Additional Files folder your device supports, you need to open the garmindevice.xml file in the Garmin folder in the device's internal memory and press CTRL-F to set the file extension, for example JCV. If it is listed, your machine supports Junction View.
Release date : 2021
Version : 2021.30
FID : 8804
Developer : Garmin Developer
Interface language : English
Key : Not required. (Map unlocked)
Link Download

Download Via UploadGig
Download Via Rapidgator
Extract files with WinRar 5 or Latest !
[related-news]
Related News
[/related-news]
Comments (0)