Software →
East Imperial Magic Word Recovery 4.5 Multilingual
Published by: BaDshaH on 29-03-2023, 22:20 |
0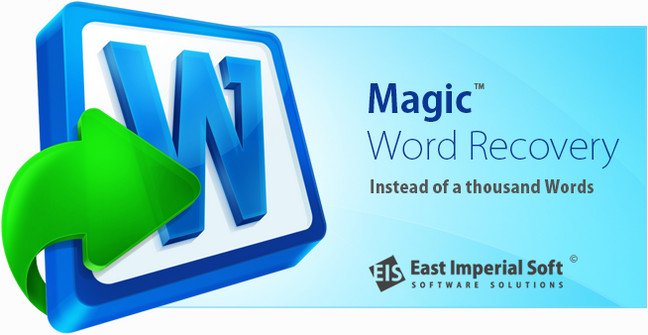 File size: 18 MB
Recover Microsoft Word documents and OpenOffice ODT files with ease. Magic Word Recovery features the same advanced data recovery engine as Magic's top of the line tools, which enables surefooted recovery from troublesome storage media and ensures you're getting great value for your money.
Recover Microsoft Word Documents
Recover Microsoft Word documents that go missing! Magic Word Recovery can undelete or recover documents saved in one of the formats supported by Microsoft Word 6-2013 including DOC, DOCX and RTF, OpenOffice ODT and several other types. Sharing its disk scan engine with Magic's top of the line data recovery tool, Recover Microsoft Word delivers a perfect combination of reliability, ease of use and value for money.
Features and Benefits
Magic Word Recovery can undelete Word documents and recover document files from formatted, corrupted and inaccessible disks.
Recovers Office Documents
- Undeletes documents removed from the Recycle Bin;
- Recovers document files deleted with Shift + Del;
- Restores Microsoft Word documents from corrupted, formatted and inaccessible devices;
- Recovers from a variety of storage media including hard disks, SSD drives, USB flash drives and memory cards;
- Supports documents in Word 6.0-2013 formats as well as all versions of OpenOffice;
- Recoverable documents are displayed as a thumbnail gallery;
- Full-size previews in a single click;
- Automatic consistency checks. Each document appearing in the list of recoverable files is thoroughly validated before being added.
Comprehensive Data Recovery Engine
- Low-level data recovery engine shared with Magic's top of the line tool;
- Reliable recovery under the most difficult circumstances;
- Near-instant recovery in Quick Scan mode;
- Recovers documents from FAT and NTFS file systems;
- Comprehensive analysis reliably recovers information from corrupted, repartitioned and formatted disks.
Three Easy Steps to Recover Word Documents
Magic Word Recovery makes recovering deleted Word documents easy. Just follow the prompts of the built-in recovery wizard, selecting the disk and specifying the recovery method (Quick or Comprehensive), and Magic Word Recovery will do the rest. After the scan is finished (which only takes seconds if you choose the Quick option), the tool will list all recoverable documents as a thumbnail gallery. Click on any document to see a full-size preview. Sounds simple? It's even easier than that! Try the free version to experience best-in-class performance of Magic Word Recovery.
Documents Stored on Formatted, Corrupted and Inaccessible Media
Magic Word Recovery shares its data recovery engine with our top of the line product. This means that the tool can handle the most difficult cases without a sweat. Formatted disks? Check. Repartitioned hard drives? You've got them. "Windows cannot access the disk" errors? Easy. Magic Word Recovery employs a highly sophisticated, low-level disk scanning engine allowing the tool to reliably detect every file saved by all supported versions of Microsoft Word.
Content-Aware Recovery
Content-aware recovery is one of the signature features of Magic Word Recovery. This algorithm engages automatically when you choose the Comprehensive recovery mode. It reads the entire content of the device to ensure that no single document escapes its attention. The algorithm operates by matching the content of raw disk sectors against characteristic signatures found in Word documents. Once a signature is detected, Magic Word Recovery calculates the exact physical location of the file, performs an integrity check on its content and, if the file is actually recoverable, adds it to the list of documents available for recovery.
Blazing Fast Operation
If you choose the Quick Scan mode, Magic Word Recovery works blazing fast. The deleted documents literally snap into view, added to a thumbnail gallery in a matter of seconds. The Quick mode allows recovering one or more documents deleted just recently.
File System Support
The tool can recover documents from disks formatted with all revisions of FAT and NTFS. This allows Magic Word Recovery to successfully operate on all desktop, laptop and removable hard disks and other types of media.
Word Recovery from Damaged Media
Documents stored on corrupted, formatted and inaccessible media can't be recovered with the Quick switch on. But that's exactly what the Comprehensive mode is for! The Comprehensive Analysis mode performs a comprehensive low-level scan of the disk, ensuring that every recoverable file is discovered, validated and restored – even if no trace of the file system is left.
Supported Formats
Magic Word Recovery can recover documents in a wide range of formats including DOC, DOCX, RTF, ODT and other formats produced by OpenOffice and Microsoft Word versions 6.0 through 2013.
Supported Storage Types
Magic Word Recovery supports all types of storage media including desktop, laptop and removable hard drives, external storage units, USB pen drives, and all types of memory cards.
System Requirements
Supporting all 32-bit and 64-bit versions of Windows and all versions and revisions of FAT and NTFS file systems, Magic Data Recovery Pack can recover data from disks, partitions and memory cards formatted with FAT12/16/32, NTFS (NT4) and NTFS5 (2000, XP, Vista, and Windows 7, 8, 10).
Whats New :
Updates: official site does not provide any info about changes in this version.
HOMEPAGE
https://www.magicuneraser.com

Download From Rapidgator

https://rapidgator.net/file/e98076d6fa7eb80eeb02541ddb05eff3

Download From Ddownload

https://ddownload.com/qfrxdul1m9su

[related-news]
Related News
[/related-news]
Comments (0)