Software →
NIUBI Partition Editor 9.4 Multilingual
Published by: BaDshaH on 22-03-2023, 17:31 |
0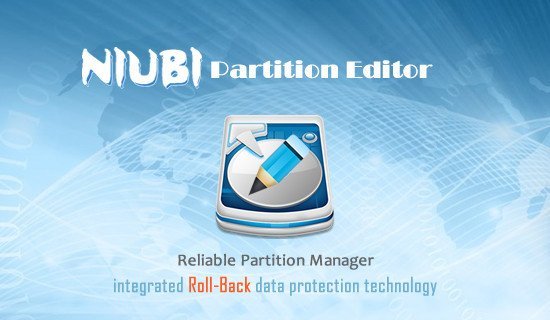 All Editions | File size: 13 MB
Magic Partition Software for Windows PC. System C drive becomes full and no free space to install Updates or applications? Don't worry, NIUBI Partition Editor helps you solve this problem easily. Better than other utilities, this magic partition manager software integrated unique Roll-Back data protection technology, which is able to automatically roll back computer to the status before resizing in ONE second, if any software error or hardware issue occurred, so you don't need to worry about data safety. Optimized file-moving algorithm helps resize partition at least 30% faster than ANY other tools.
NIUBI Partition Editor Enterprise Edition is designed for medium and large organizations. It supports Windows Server 2022/2019/2016/2012/2008/2003, Small Business Server 2011/2008/2003 and Windows 11/10/8/7/Vista/XP (32 & 64 bit). Local/removable hard disk, VMware, Hyper-V and all types of hardware RAID arrays are all supported.
Enterprise Edition can be registered on unlimited PCs and servers belonging to your organization, regardless of the locations. This enterprise partition manager helps you change size of allocated partition without losing data, optimize system, copy, convert and manage disk partitions with ease.
Resize/Move Partition
• Resize Partition
What to do when system C: drive or any data volume becomes full, waste a long time to start from scratch? NO! NIUBI Partition Editor helps resize allocated partition easily and safely.
- Shrink volume and generate Unallocated space on either side.
- Extend volume by taking free space from other partitions.
- Advanced technologies to protect system and data.
- Simply click, drag and drop on the disk map.
- 30% - 300% faster than ANY other tools.
• Move Partition
Drag and drop to move partition with contiguous Unallocated space without data loss.
• Merge Partitions
Combine two adjacent partitions into a larger one by several clicks without losing data.
Copy & Convert
• Convert Disk Partition
Windows or some applications require specific style of hard disk or partition volume. NIUBI Partition Editor can covert disk and partition without losing data.
- Convert MBR style hard disk to GPT.
- Convert NTFS partition to FAT32.
- Convert Primary partition to Logical.
- Convert Logical partition to Primary.
- All by several clicks.
• Copy Disk Wizard
File system level fast clone entire disk to migrate Operating System and data.
• Copy Volume
Clone single partition to back up data or migrate to another larger disk.
Data Security
• Erase Data
After you delete files, delete or format a partition, these files are still recoverable by professional tools. NIUBI Partition Editor can completely erase sensitive data to prevent being recovered.
- Wipe entire hard disk.
- Wipe single partition.
- Wipe Unallocated space.
- Simple and military level algorithm.
• Hide Volume
Hide partition from File Explorer to prevent important data from unauthorized accessing. Easily unhide if you want.
• Set Read-Only
Set read-only attribute to a hard disk preventing files from unauthorized modification.
Disk Partition Management
• Create Volume
Create new partitions with free Unallocated space, much more options than Disk Management.
• Format Volume
Format existing partition to use as a new drive. (All files will be lost)
• Change Drive Letter
Change alphabet letter of a partition volume such as C, D, E, etc.
• Set Active
Specify a partition as Active to boot Windows OS.
• Clean Up Disk
This function is used to remove all partitions, un-initialize a disk to use as new.
• Delete Volume
Delete entire hard disk or single partition if you don't want to keep them.
• Change Label
Add a new or modify the name of a partition for easier recognition.
• View Properties
Check detailed parameters of a disk or partition.
• Change Status to Offline
Convert a hard disk to offline status.
• Initialize Disk
A new hard disk should be initialized before creating partitions and saving files.
System Optimization
• Surface Test
Bad sectors are damaged and lost the ability to write and retrieve data, they can corrupt your saved data as well as slow down your computer. Surface Test can scan single partition or entire disk to check if there are bad sectors.
• Check Volume
Check and repair error to ensure file system integrity.
• Defragment
Defrag to improve the partition read and write efficiency.
What's new
• official site does not provide any info about changes in this version
Platform
- Windows 11/10/8/7/Vista/XP
- Windows Server 2022/2019/2016/2012/2008/2003
- Windows SBS 2011/2008/2003
HOMEPAGE
https://www.hdd-tool.com/

Download From Rapidgator

https://rapidgator.net/file/96715060fa41dee8f9632c73272872c5

Download From Ddownload

https://ddownload.com/10tpawrnd1rh

To Support My Work Buy Premium From My Links.
[related-news]
Related News
[/related-news]
Comments (0)