Software →
Neevia Document Converter Pro v7.3.0.188
Published by: kalpatru on 27-01-2023, 14:33 |
0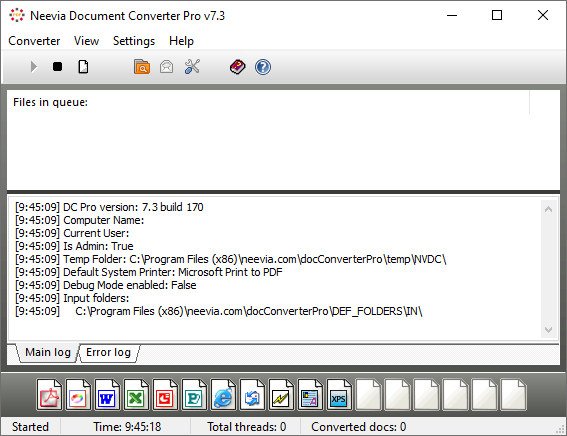 Neevia Document Converter Pro v7.3.0.188 | File size: 38.7 MB
Neevia Document Converter Pro is a software product that dynamically converts Microsoft Office 2007/2010/2013/2016/2019/365, WordPerfect, HTML, AutoCAD DWG/DWF, EML, MSG, PostScript and many other document types to PDF, PDF/A, PostScript, JPEG, TIFF, PNG, PCX, BMP. It operates in both a batch mode via directory or email scanning and in direct mode via a COM object or .NET component. Document Converter can be configured to recognize text - this is known as OCR - for the converting Image and PDF files and comes with support for printing the input files directly to a physical printer instead of converting them to PDF or Image.
With clustering support and multi-threaded conversion Neevia Document Converter Pro is the only document conversion software that offers 100% conversion stability.
Document Converter Pro is easy to install and is used by companies in the legal, pharmaceutical, insurance and in many other areas that generate voluminous documents. The goal of Neevia Document Converter Pro is to help your company create one PDF/Image standard that can be integrated into your workflow with ease and affordability.
KEY FEATURES
• Unlimited number of conversions;
• Multi-threaded conversion;
• Multiple input folders, each with its own configuration;
• Conversion scheduler;
• Monitor and convert files from multiple eMail accounts;
• Failover and high performance clustering support - more info;
• Support for recognizing text - known as OCR;
• No Adobe software required;
• Support for over 300 file types;
• Convert HTML files with support for CSS, SSL, Java and Flash images;
• Convert MS Word hyperlinks/headings to pdf links/bookmarks;
• Convert MS Word form fields into PDF form fields;
• Font embedding, resolution, compression and multi-language support;
• 128/256 bits PDF encryption; Encrypt existing PDF files;
• Convert MS Excel hyperlinks/headings to pdf links/bookmarks;
• Convert MS Powerpoint hyperlinks/headings to pdf links/bookmarks;
• PDF merge and split functionality;
• Add watermark and stationery - unicode fully supported; Stamp existing PDF files;
• COM object and .NET component included for on the fly conversion;
• Run as a Windows service;
• Convert to PDF, PostScript, TIFF (including Class F), BMP, PNG, PCX, JPEG;
Release Notes
Added
• support for PDF 2.0 as output format;
• support for OAuth 2.0 in email watcher;
• support for Windows Server 2022;
Fixed
• improved conversion stability for the EML/MSG parser;
• minor bug fixes;
Homepage
https://www.neevia.com
[related-news]
Related News
[/related-news]
Comments (0)