Software / Multimedia →
iSunshare SafeFile Genius 3.1.1.5
Published by: LeeAndro on 8-06-2023, 08:36 |
0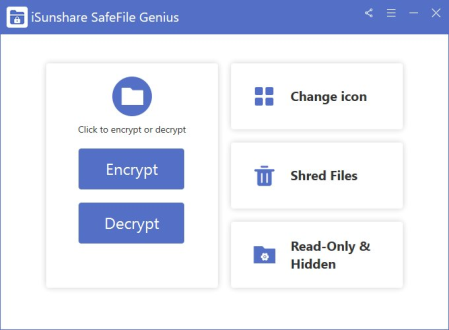 File size: 7.09 MB
Powerful File encryption tool to secure your important and sensitive information in internal/external hard drives on Windows.
Safely encrypt/decrypt your private files and folders with a password.
Quickly disguise folder to keep files away from unwanted notice.
Easily hide and protect files from being altered/accessed by others.
Completely and permanently erase your files without recovery.
Simply secure files with right-click menu and simple clicks.
iSunshare SafeFile Genius
Use strong algorithms to password protect personal data on your PC/laptop.
Encrypt various files such as images, videos, audios, office files, etc.
Support right-click menu to quickly encrypt your files.
Secure files stored in local, external, USB drives.
Offer intuitive interface and easy steps to protect files.
Compatible with almost all Windows versions.
Strongly Password Protect Files/ Folders without Leakages.
With iSunshare SafeFile Genius, you can convert images, videos, text, ppt, word, excel, ect. into ciphertext with a file password, which can deny the access from prying eyes. Once encrypted, you can decrypt and view the file only when entering a correct file password. In this way, you are able to safely keep data security as well as your privacy without any leakages.
Completely Erase Files without Recovery.
iSunshare SafeFile Genius allows you to permanently delete sensitive files and folders stored on internal/external hard drives. Once the file is shredded by this tool, it cannot be recovered by anyone with any software. In this way, you are able to make a secure and complete deletion of private data beofre sharing your Computer with others.
Easily Secure Files with Multiple Features.
iSunshare SafeFile Genius is a flexible and effective tool that offers much more than just encryting and decrypting. With this program, you can also easily make a sensitive folder act like Computer, Printer, etc. by chag folder icon to prevent others discovering it. In addition, you are able to quickly set a couple of files to Read-Only or Hidden to avoid modification and access.
In addition to keeping your secret files safely stored on Computer, this tool can also have your files completely removed from the Computer. These multiple functions enable you to secure your files with simple clicks.
What's new
official site does not provide any info about changes in this version
System Requirements
Windows 11/10/8/7/Vista/XP/2000/2003 /2008/2012/2016 (32 bit & 64 bit)
HomePage:
https://www.isunshare.com/
DOWNLOADrapidgatorddownload
[related-news]
Related News
[/related-news]
Comments (0)