Software / Multimedia →
Impact Soundworks Tape Sculptor v1.0.0 WiN
Published by: LeeAndro on 2-06-2023, 16:41 |
0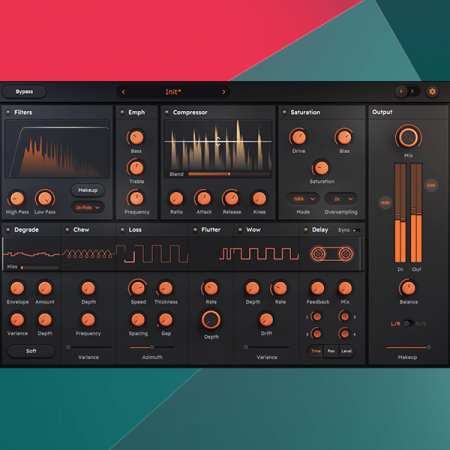 MOCHA | VST3/AAX/CLAP | 7.5 MB
Tape Sculptor is a next-generation tape plugin that can go far beyond typical tape emulation to enhance your productions in all-new directions. Created in partnership with brilliant eeer Jatin Chowdhury. Whether you're looking to infuse subtle warmth and color during mastering, fatten up drum and bass parts, add lo-fi grit or extreme distortion, or explore entirely new sound design possibilities, Tape Sculptor delivers!
Details
Tape Sculptor's shining feature is its versatility, allowing you to infuse subtle warmth and dynamics, add character through analog fatness and saturation, bring cohesion and polish to your mix, add a vintage vibe, create space and depth, or completely morph your sound into a creative, boundary-pushing realm.
The second entry in our Sculptor series is another collaboration with cutting-edge eeer and DSP masted Jatin Chowdhury. If you're familiar with Jatin's acclaimed ChowTape Model, we've significantly expanded it, adding features and completely redesigning its UI for ultimate efficiency and intuitiveness.
Tape Sculptor's wide range of sound is evident in the generous factory bank of presets — everything from fat, analog warmth perfect for hip-hop and R&B productions to gritty lo-fi to alien space modulation to extreme destruction. Use the parameters within each module to fine-tune your sound, or build your own completely from the ground up.
Tape Sculptor has been thoughtfully designed for both ease-of-use and extensive control. With all its features on a single page and each module easily toggled, tweaking your sound is both fast and intuitive.
Processing Modules
An array of parameters in the Filter, Compressor, and Saturation modules lets you shape exactly the sound you're looking for: slim the signal with the adjustable slopes of the analog-modeled filter, use the compressor to soften your transients or tweak its parallel compression slider to get a fuller dynamic range, and customize the saturation with the drive, bias and tone knobs as well as several hysteresis mode options.
Tape Sculptor accurately captures the details of tape machine behavior to a remarkable degree. Emulate the way tape ages and wears over with the Degrade module. Add in the sound of a tape being wrinkled or mangled with the Chew module. Use the Loss module to mimic the unique pattern of tape machine signal loss. Dial in pitch fluctuation using the Wow and Flutter modules.
Finally, our all new 4-channel Delay module lets you add space and depth to your sound with separate , pan, and level controls.
About Jatin Chowdhury
Jatin is a software eeer and musician whose innovative work in DSP has been widely recognized by academia, industry peers, and users of his free ChowdhuryDSP plugins. His novel research includes cutting-edge analog modeling techniques, hardware emulation, and even the use of neural networking for DSP. His goals of creating both excellent audio tools & learning resources align perfectly with our own. Jatin and Impact Soundworks previously collaborated on Bass Sculptor.
HomePage:
https://www.anonymz.com/https://impactsoundworks.com/product/tape-sculptor/
DOWNLOADrapidgatorddownload
[related-news]
Related News
[/related-news]
Comments (0)