Software / Graphics & Design →
StudioLine Photo Pro 5.0.5 Multilingual (Win x64)
Published by: mata00 on 3-06-2023, 15:33 |
0
StudioLine Photo Pro 5.0.5 Multilingual (Win x64)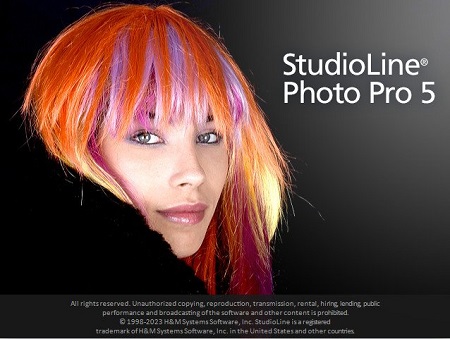 StudioLine Photo Pro 5.0.5 Multilingual (x64)
File size: 142.65 MB
StudioLine Photo Pro 5 is the highly effective software for the professional editing and management of large image collections in server-based networks. Of course, the RAW formats from all popular camera models are supported.
All in One - Plus Networking
StudioLine Photo Pro is a multi-user product for server-based networks. The initial license covers the server instance plus 5 workstations. Additional workstations licenses can be added at any time. Sophisticated user administration functions are available to manage users, groups and permissions. Using a group-centric security model makes it easy to control capabilities for staff and grant varied access levels to specific image archive folders.
New Features
Your Personal Load Assistant
Quickly and easily load images from you camera, hard disk or other drives. Any files not previously loaded are automatically suggested and selected.
Pre-defined Tool Settings
Store frequently used image tools (filters) or entire filter sequences as templates. This way the same tool settings are available at any time to treat further images with the same editing steps.
Protect Your Images
Superimpose your personal watermark into your images to prevent unauthorized use. Any graphics and text may be combined to create watermarks.
Easy Print
Create print layout to suit various occasions. Taylor your images for optimal print results on the desired output medium.
Professional Image Editing
Numerous images tools such as white balance, unsharp mask oder RGB mixer are available. All editing steps are non-destructive; they are kept in a database and the original image remains untouched. A few quick steps and your foto set will appear as a slide show, is published as a gallery to the web or burned onto CD/DVD, or is sent via email to your circle of friends.
Archival Made Easy
Categorize your images with unlimited text in system and user descriptors or by assigning keywords and ratings. After that, searching for specific images or those matching a certain theme is child's play.
Presentation
View your images in your own albums, in the advanced Timeline Explorer or by keywords and categories. Avoid data loss by backing up your image archive, with all metadata and image edits, to CD, DVD or secondary hard disk.
Convenient Geotagging
Geotag your images with GPS coordinates from GPS loggers or GPS equipped digital cameras. Or, use the Geo Explorer to drag untagged images to the correct location on a map. StudioLine retrieves location details such as county, city and possibly street. This way, you'll be able to search, sort or filter your photo collection by names of cities and sites.
System Requirements
- Windows® 8.1, Windows® 10, Windows® 11
- Multi-core processor with a minimum of 1.6 GHz, higher recommended
- 4 GB RAM, more recommended
- 150 MB disk space for programs (allow extra space for data)
- 24 bit graphics adapter with monitor resolution of 1024 x 768 pixels
Supported Languages
English, German, French, Italian, Spanish
Link Download

Download Via Fikper
Download Via Rapidgator
Extract files with WinRar 5 or Latest !
[related-news]
Related News
[/related-news]
Comments (0)