Software / For MacOSX →
Plugin Boutique Scaler 2 v2.8.0 (Mac OS X)
Published by: mata00 on 4-06-2023, 16:27 |
0
Plugin Boutique Scaler 2 v2.8.0 (Mac OS X)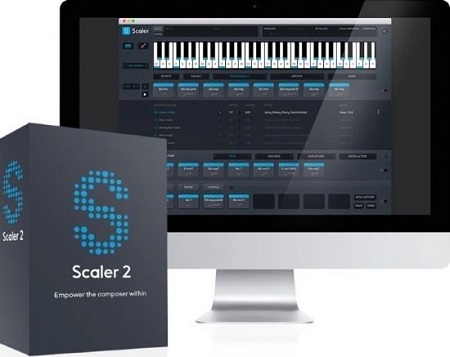 Plugin Boutique Scaler 2 v2.8.0 (Mac OS X)
RYZEN | 01 June 2023 | 1.43 GB
Scaler 2 is an inspirational and powerful music theory workstation that gives you access to a world of new ideas, expressions and melodies. With powerful detection of MIDI and audio, Scaler 2 can determine what key and scale you're in and suggest chords that match your music. The plugin helps you discover the perfect melody with performance expressions, and can even suggest ways to change from one key to another.
Whats new in this version
Changelog 2.8.0
Content
- 66 Song Chordsets: Ambient, Anime, Synth Divisi 4 Part, Latin Jazz, Movie Theme, Reggae, J-Pop, K-Pop.
- 14 Artists Chordsets: Lloyd Brown, Pablo Sanchez.
- Expressions Patterns: EDM Bass, Melodic Bass, Sidechain Bass, Common Progression Phrases, Common Rhythms, 7/4 Rhythms, 9/4 Rhythms.
- 9 Japanese scales.
- New Slap Bass sound.
- New guitar chord positions.
- Group internal instruments by categories in the instrument dropdown menu.
Improvements
- Prevent CPU spikes when starting recording or using MIDI Panic.
- Improve stability on M1 systems.
- Add compatibility with M1 Native plugins in Pro Tools.
- Prevent OpenGL crash when saving a session from the Save popup.
- Ensure performance parameters are reset properly when switching bind OFF.
- Fix playback timings being reset when moving chords to empty slots or reordering slots in Section C.
- Prevent NoteOff messages from sharing the same sample number as the next NoteOn event of the sequence.
- Ensure notes are named correctly according to the selected scale in Modal Interchange screen and keys-lock mode.
System Requirements
Windows 7 or newer
OSX 10.8 or higher
Link Download

Download Via Fikper
Download Via Rapidgator
Extract files with WinRar 5 or Latest !
[related-news]
Related News
[/related-news]
Comments (0)