Music →
Alexandre Desplat & Hollywood Studio Symphony - Casanova Original Soundtrack (2005)
Published by: LeeAndro on 30-11-2022, 13:18 |
0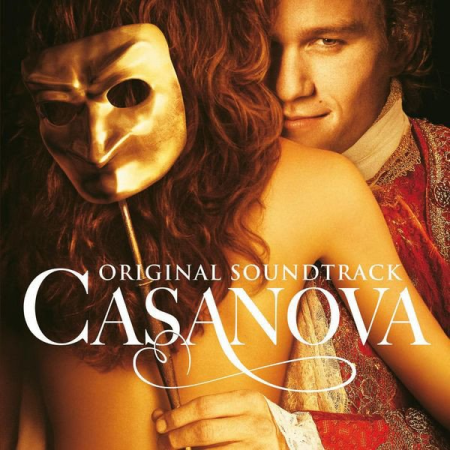 CD FLAC (tracks, cue, log) - 248 MB | MP3 CBR 320 kbps - 108 MB | 45 min | Soundtrack, Classical
Casanova[2005][Original Soundtrack] Review by AllMusic
The music to the motion picture CASANOVA features classical composers representative of the period. Works by Vivaldi, Roman, Albinoni, and Rameau are featured, and are presented largely in their original arrangements (though in a few cases they have been re-arranged for the film). The original elements of the score, composed by Alexandre Desplat, blend in nicely with the well-known pieces, and the soundtrack as a whole creates a perfect aural analogue to the famous tale of drama and romance.
1 An Untold Story - Assaggio No 1 In G Minor
2 The Legend Of Casanova - Tambourins I/II From Daro
3 I Yield to Love - Cello Concerto No 3 in D Minor
4 Eternal Damnation - Overture From Les Fetes De Polymnie, Overture From Platee, Overture From Zoroastre
5 The Doge's Decree - Concerto In C Major
6 A Venetian Vi
7 San Cremori At Dawn - Concerto In C Major For Harpsicord And Strings
8 A Lover's Duel - Overture From La Madrilena
9 A Terrible Mistake - Concerto A 5 Op 9 No 4
10 A Secret Lover - Sinfonia From The Opera Farnace
11 Marriage Is A Safe Haven - Concerto A 5 Op 9 No 4
12 Trailing Guardi - Sonata For Violin And Bassocontinuo Op 5 No 11 In E Major
13 The Noble Pig - Concerto Per Quartetto No 8
14 Paprizzio's Arrival - Concerto A 5 Op 9 No 2 In D Minor
15 Inquisitor Pucci
16 With My Hopes - Concerto A 5 Op 9 No 4
17 A Big Idea - Hapsicord Concerto In B Flat
18 A Nom De Plume/Carnivale! - Bouree From Les Plaisirs Champetres
19 The Plume s Nom Is Casanova!
20 Dancing At The Doge s Ball - Rigaudon From Water Music Suite No 3 In G; Bouree From Music Fo Royal Fireworks And Loure From Tafelmusik 1
21 One Step Closer To Heaven - Concerto A 5 Op 9 No 4 In A
22 Casanova's Confession - Sonata Op 5 No 7 In D Minor
23 The Hag - Violin Concerto "IL nto Dell'armonia E Dell'invenzione" Op 8 No 11 In D Major
24 A Great Escape - Overture From Zais Overture From Nais Overture
25 My Place Is With Casanova - Overture From Le Temple De La Gloire; Overture From Zais And Arcangelo Corelli - Sonata For Violin And Bassocontinuo, Op 5 No 7 In D Minor
26 All's Well... - Concerto A 5 Op 9 No 4 In A
DOWNLOAD1dl.netuploadgig.comrapidgator.net
[related-news]
Related News
[/related-news]
Comments (0)