Published by: LeeAndro on 8-06-2023, 08:36 |
0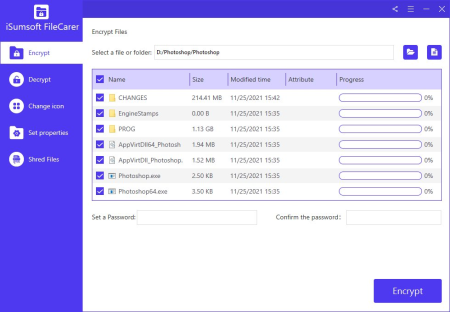 File size: 6.84 MB
iSumsoft FileCarer is a powerful and easy-to-use encryption tool that enables you to safely encrypt/decrypt files, change folder icon, set files properties(read-only or hide) and shred files on Windows Computer.
Encrypt files and folders in local/external/USB drives against unauthorized access.
Decrypt files and folders into original readable file with a password.
Fake folder icon to another specific icon and make it hard to recognize.
Set file properties into read-only or hide to protect it from changes or access.
Shred files to permanently delete file or folder and make it unrecoverable.
Safely Encrypt & Decrypt Files
iSumsoft FileCarer enables you to encrypt folders and files including photos, videos, documents, etc. using strong algorithm. Unlike just locking your files, this encryption method can convert your files into inaccessible format, which will maximize the protection of your private data.
Once encrypted, only the person who has the password can decrypt and access the data. If you want to safely protect your files and folders, iSumsoft FileCarer with fast and strong encryption is really a good choice.
Easily Hide Files from Other Users
iSumsoft FileCarer can help you change your original folder icon into specific folder icon such as Recycle Bin icon, Printers icon, etc. Such a fake folder icon will make it hard for unknown users to discover the original folder, which can protect the sensitive folder from prying eyes.
In addition, it enables you to set the file property into "read-only" to prevent the file being modified. Meanwhile, it allows you to set the file property into "hide" to make your private file invisible for other users.
Permanently Delete Files
iSumsoft FileCarer supports secure deletion for files and folders. It allows you to shred the file and make it irrecoverable. Once the file is deleted, it will be completely removed from the hard drives of your Computer and can't be recovered by any recovery tool.
Just 4 steps
1. Click the Encrypt option on the left.
2. Select the file you want to encrypt.
3. Enter the password you want to encrypt the file.
4. Click Encrypt to start encrypting the file.
What's new
official site does not provide any info about changes in this version
System Requirements
Windows 11/10/8/7/Vista/XP/2000/2003 /2008/2012/2016 (32 bit & 64 bit)
HomePage:
https://www.isumsoft.com/
DOWNLOADrapidgatorddownload
[related-news]
Related News
[/related-news]
Comments (0)