Published by: voska89 on 4-06-2023, 13:19 |
0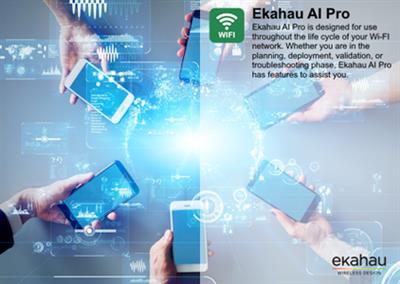 Free Download
Ekahau AI Pro 11.2.1 | 943.1 mb
The Team Ekahau is pleased to announce the availability of Ekahau AI Pro 11.2.1 is the Wi-Fi design software of choice for IT professionals leading business-critical Wi-Fi design and deployment projects. This release is pretty much all about performance and usability improvements; we are pretty sure you are going to love them.
Product:
Ekahau AI Pro
Version:
11.2.1 (409)
Supported Architectures:
x64
Website Home Page :
www.ekahau.com
Languages Supported:
english
System Requirements:
Windows & macOs *
Size:
943.1 mb
Ekahau AI Pro Overview | 6 GHz Wi-Fi Planning and AI Design Tool
Version 11.2.1 Release Date: May 31st, 2023
This release is concentrated on stability and performance improvements
- Resolved opening of some specific projects
- Improved Channel Planning accuracy and performance
- Enhanced precision of the Wall tool for perfectly straight walls.
- Improved predefined Wall tool segment rotation with SPACE key
- Streamlined Wall type and Attenuation Area type settings for better functionality
- Upgraded vendor OUI list for multi-SSID grouping
- Added AP name parsing for Ruckus, Arista, and Alcatel-Lucent
- Numerous UI and usability improvements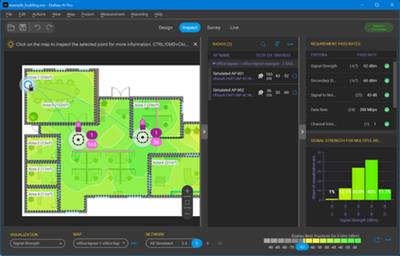 Ekahau AI Pro
is the Wi-Fi design software of choice for IT professionals leading business-critical Wi-Fi design and deployment projects. Create powerful AI-assisted predictive wireless network designs for perfect AP placements, simulate network upgrades against real-world environments, inspect collected and live survey data, and generate custom reports detailing the performance health of your network. Featuring a robust database of thousands of wireless access point and antenna patterns, Ekahau AI Pro is the tool of choice for designing wireless networks for all Wi-Fi standards, including Wi-Fi 6 (802.11ax), Wi-Fi 6E (802.11ax in 6GHz), and 802.11a/b/g/n/ac. AI Pro takes your business requirements for Wi-Fi connectivity and identifies the ideal wireless access point placements for your Wi-Fi network. Ekahau AI Auto-Planner runs tens of thousands of iterations against your specific wall materials and floor plan to find the optimal positions for your AP placements. Generate a multi-floor Wi-Fi network design that will effortlessly exceed your design requirements while minimizing channel interference in mere seconds.
Our Mission: To Rid the World of Bad Wi-Fi | EkahauOur mission: to rid the world of bad Wi-Fi - because bad Wi-Fi sucks and it's bad for business. But as anyone who's faced off against an invisible foe can tell you, this colossal task takes a clear vision, clever engineering, and a whole lot of caffeine. To help, we've enlisted the smartest brains in the industry: Wi-Fi Scientists, Frequency Specialists, literal PhDs of Wi-Fi.
Ekahau
is part of Ziff Davis, Inc., a leading Internet information and services company consisting of a portfolio of brands that collectively reach more than 240 million people each month. Ekahau is headquartered in Reston, Virginia, with offices around the globe, including an R&D and Product team based out of Helsinki, Finland.

Buy Premium From My Links To Get Resumable Support,Max Speed & Support Me
Links are Interchangeable - Single Extraction
[related-news]
Related News
[/related-news]
Comments (0)