Software →
Rons WebLynx 2023.05.29.1359
Published by: BaDshaH on 7-06-2023, 06:54 |
0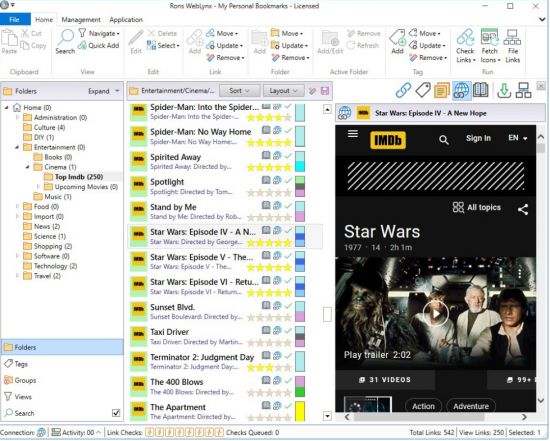 File size: 20.9 MB
Rons WebLynx is a Windows desktop application, for organizing and managing bookmarks. Bookmarks are stored in WebLynx documents on the local computer, so are not 'shared' in the cloud and do not rely on third party storage.
Ideal for research, marketing, or just organizing a lot (1000's) of links. Nowadays, almost everyone can do with a good bookmark manager as the internet has become part of our daily lives - you typically don't realize you need a bookmark manager until you start using one.
WebLynx combines power, elegance and ease of use, and is full of features like automatic link checking to make it a great tool for anyone who uses the Internet.
Whats New
https://www.ronsplace.ca/Products/RonsWebLynx/History
HOMEPAGE
https://www.ronsplace.ca/

Download From Rapidgator

https://rapidgator.net/file/ed318a27d7258961fe03a0e2957b6f1c

Download From DDownload

https://ddownload.com/2bt0gnc5ozer

Download From Nitroflare

https://nitroflare.com/view/78C1078B13F4CF8

[related-news]
Related News
[/related-news]
Comments (0)